Things to Know before Remediation – Fire Damage Clean-up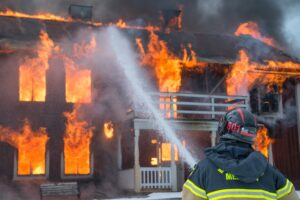 Fires are relatively common than we think. They happen every day, and we rarely imagine what would happen if we ever face the reality of a fire in our own lives. If a fire occurs in our home or property, we must first take all necessary measures to get out of there. Don't go back in to save your personal belongings; wait for professionals to come to help you and put the fire out. Once the fire is out, restoration companies would aid in cleaning up fire damage.
Fire damage is a process that requires a lot of steps. The team would look at water damage, fire damage, and smoke damage. It will remove debris, smoke, and soot accumulated in vents, fix water damages, and remove damaged products.
Restoration companies have excellent knowledge and expertise when it comes to the cleaning process. They can assist you in every step and take over the dangerous parts of cleaning up. Here are a few things to remember before the fire remediation process starts. Following these tips would protect your peace of mind after such a traumatic event. The last thing you want to feel is overwhelmed and panicked.
1.   Clean-Up Will Take Time
The fire damage clean-up process can take longer than you think. It takes time to repair and clean things. So be patient as the process takes time. Remain calm, and don't let anxiety take over you. Plan how you can be a part of this clean-up process each day and contribute. This can be difficult as you just went through something traumatic but remember, we can't change what has already happened. Do what needs to be done that day, knowing things would go back to normal soon.
2.   Find a Safe Place to Stay.
It is impossible to stay in a house that just burnt down. Knowing the clean-up process would take time, calling up a close family member to arrange accommodation for a few days would be wise. If the fire were not too damaging, it would still be advised to live in another house until air quality is maintained and the area is cleaned up. It is also suitable for mental and emotional health to live with a friend or family member and be surrounded by loved ones during this difficult time. It would help you relax. It is also important to rest and stay away from your burnt property for a few hours to help you stay calm. After the fire, there are many harmful compounds and chemical substances. Being exposed to them, 24/7 can cause respiratory illnesses. If the damage to your house is extensive, then call up your insurance agent; you can find a semi-permanent place to live in while they restore and rebuild your home.
3.   Call Your Insurance Agent
Insurance agents play a vital role in initiating the clean-up process. Inform them about the fire damage and ask them what steps to take immediately. The faster you involve your insurance agents, the quicker you can call up a restoration company to prevent further damage. The insurance agent will cover costs and replace all belongings that got damaged by the fire. It is common for firefighters to break windows to help the fire to die down; let your insurance agent know so they know to what extent the property damage is.
4.   Call the Right Restoration Company
After talking to your insurance company, call a reputable restoration company to help you with immediate water damage remediation. 911Restoration will also take action to secure your property. Restoration companies immediately dispatch an emergency response team to come to the property to assess the extent of the damage. They will start working on restoration once the fire department says it is safe to work in the area. Reputable companies like 911Restoration have specialized equipment, cleaning agents, and years of experience to restore the damage and eliminate smoke. Their actions are crucial to prevent further damage. 911Restoration provides fire damage restoration and smoke removal in Southern Nevada, Clark County, and the surrounding areas 24/7/365, with 45 minutes or less guaranteed arrival time.
5.   Secure Your Property
Theft is prevalent in cases like this. This is why it is crucial to secure your property. This should be immediately done before clean-up and restoration started. Most insurance policies require you to secure your house after fire damage to prevent robbery of your belongings in the house. If you're moving to another home, it is essential to put security measures into place for the time being. The restoration company, in this case, can be an invaluable help. They can do the work needs such as board up doors and openings in windows.
Going through such a traumatic incident is a nightmare for many, but you can always trust on 911Restoration to restore the damage. Call 911 Restoration of Southern Nevada and Clark County at (725) 215-9369 now!