Commercial Water Damage Restoration in Southern Nevada
When your property in Southern Nevada experiences a water damage emergency, fire, or any other type of disaster your stress levels are likely through the roof and you need commercial restoration. Not only is your greatest asset at stake, but so is your livelihood. You need commercial restoration services immediately, and you need a restoration company who doesn't take your situation lightly.
That's where 911 Restoration of Southern Nevada delivers. We offer the commercial restoration services you need 24/7/365, with a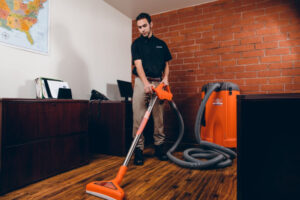 guaranteed arrival time of 45 minutes or less. No one understands the urgency of your situation better than our staff of compassionate technicians. They act fast to repair and restore your property so you can get back to business as usual. To provide you the Fresh Start you deserve, we offer the following commercial restoration services:
Mold removal
Disaster restoration
Sanitization and more
We're the perfect restoration company for you because we're a locally owned and operated business. We understand how important safety and appearance are to maintaining your standing within the community. Basic water removal or fire cleanup isn't going to get you back to the place you need to operate from. Your property needs to feel, look, and smell brand new to make your staff and customers feel comfortable. That's why our IICRC certified staff is fully trained in full-service property repairs and sanitization.
911 Restoration of Southern Nevada is insured, licensed, bonded, and backed by the resources of a respected, nationwide company. We prioritize transparent business practices and honest communication to earn your trust. We even provide a free visual inspection (for property owners only) and free insurance consultation so you're never walking through the process blindly. Plus, we accept all types of insurance and handle the complicated paperwork so that you have one less headache!
From sewage backups, to water damage and mold infestation, property damage isn't something to take lightly. We take on all the work for you,
Call 911 Restoration for reliable commercial restoration and a Fresh Start in Southern Nevada and Clark County today.
Your Emergency Water Damage Restoration Southern Nevada Team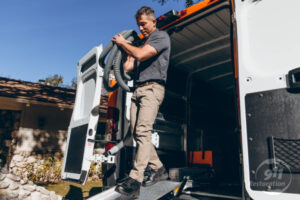 When a water damage emergency strikes, call 911 Restoration of Southern Nevada.
Our water damage restoration staff arrives on your property in 45 minutes or less and immediately removes any of your unharmed belongings that are still at risk of water damage. They even pack and store them for you, too.
Once your belongings are safe, they determine if your property is still vulnerable to incoming water with a water damage inspection. If there is still flooding, they take care of the problem with roof repair, storm repair, or boarding up. They locate the source of the leak or flooding and do what it takes to make repairs and handle water removal promptly, if needed.
Once the water removal process is completed, our technicians begin to dry out your property. They sanitize the area to protect against any invading viruses or bacteria so that your employees and customers are safe when entering your property again. From there, our emergency service restoration team inspects for damages on your property by testing the structure for rotting and weakness.
Because 911 Restoration of Southern Nevada is also a certified mold specialist, our crew performs a mold inspection to search for any development. If an infestation is discovered, they take care of mold remediation personally.
It may be hard to imagine now, but by the time our commercial restoration technicians leave your property, you would never know you had experienced a water damage emergency in the first place! We work fast and with your best interests in mind.
Call us today for water damage restoration in Southern Nevada you can trust.
Commercial Restoration Designed for Your Success
What business can afford to partner with an emergency service restoration company that doesn't understand their needs? Definitely not yours!
At 911 Restoration of Southern Nevada, we understand that you need fast service and a full recovery. It's going to take more than basic cleanup services to restore the atmosphere your staff and customers love—and you deserve it without a heavy sales pitch.
Our commercial restoration staff promotes transparency and earns your trust from the very first phone call. We offer a free visual inspection (for property owners only) and from there we discuss your options for recovery. From the very start, you know exactly what it will take to get your doors back open.
Because we know how much of a headache insurance can be, we provide a free insurance consultation. We determine what your provider covers and bill them directly. Our team even helps with inventory, loss itemization, and claim filing.
We know better than most how precious your commercial property is to you. It's your livelihood and you've worked so hard to make your dream a reality. Our promise to you is to never take that responsibility lightly.
When you need water removal, fire cleanup, or any other commercial restoration service, 911 Restoration of Southern Nevada is in your corner. Call us today for a Fresh Start.