Sanitizing & Cleaning Services in Southern Nevada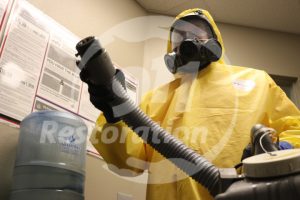 The Covid pandemic flipped everything upside down for most businesses and people all over the world in 2020. Even though regulations regarding covid change, the need for sanitizing and disinfecting our homes and businesses remains the same in Southern Nevada. COVID-19 remains highly contagious and potentially fatal for some members of our communities. There's no need to live in paralyzing fear, but we do need to take responsibility for social distancing and sanitization.
At 911 Restoration, we know you feel the burden of sanitization and disinfection as a property and business owner because we feel it too. There are several things you can do to provide peace of mind for your customers, employees, and yourself.
First, it's important to stay informed. We recommend turning to reputable sources like the Centers for Disease Control for regular updates because new information about the coronavirus is released daily. Using the right information helps you to maintain proper sanitization and a healthy environment. The wrong information can lead to dangerous decision making. Always research the source of a COVID-19 news item before taking the advice.
Second, as a commercial water cleanup owner you don't know the risk factor for each individual entering your space. Even if they appear to be young and healthy, they may live with an at-risk individual.
Follow the Best Practices for covid Sanitizing in Southern Nevada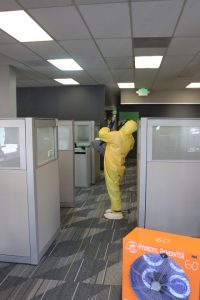 It's critical to never assume your property is virus-free simply because no one who enters seems sick. To minimize the chances of someone falling ill from entering your property, insist on the use of face masks for patrons and staff. Provide the appropriate PPE your staff needs based on your industry.
Above all, it's important to prioritize sanitization and deep cleaning. Your employees and customers look to you for reassurance that returning to work or patronizing your business is a low-risk decision. Ease their minds by properly disinfecting your property frequently.
Running a business was challenging before the coronavirus. Adding sanitization and social distancing policies can make it even more complicated. We're here to take the pressure of deep cleaning off your shoulders with our sanitization services and disinfection solutions.
911 Restoration provides thorough property sanitization in Southern Nevada and Clark County. Our certified disinfection crew serves both residential and business properties. They provide deep cleaning and disinfection solutions for homes and businesses of all sizes and types. We follow CDC and EPA protocol to ensure the quality of our services.
We know this is a challenging time for everyone. There's no sure way to completely avoid and eliminate COVID-19, but you have a partner in 911 Restoration who is in this with you. Call us anytime for sanitization services and disinfection solutions in Southern Nevada and Clark County.