Sewage Backup and Cleanup Southern Nevada
No business owner wants to arrive on their property to discover a sewage backup disaster occurred while they were away. But when you do, you're in a race against the clock and you need to act fast. You can trust your commercial damage restoration to 911 Restoration of Southern Nevada.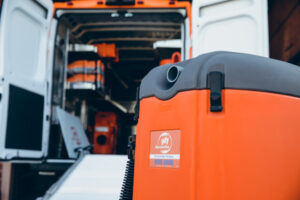 We provide sewage backup cleanup services 24/7/365, and guarantee an arrival time of 45 minutes or less. That way you have peace of mind that your property will be restored from the very first phone call.
At 911 Restoration of Southern Nevada, sewage cleanup is about more than just water removal. Our water damage Las Vegas NV dry, sanitize, and repair your property so that you're left with an environment as clean and fresh as the day you moved in.
You can trust the 911 Restoration technicians because they're IICRC certified and trained to provide the very best service—plus, we hold them to very high standards! We're licensed, insured, bonded, locally owned and operated, and backed by the resources of a nationwide company.
We don't only prioritize providing top quality service. Our sewage cleanup team is held accountable for leading with compassion. We know a sewage backup is a disgusting invasion on your property, so our crew treats your property as their own. You even get a free visual inspection (for property owners only) and free insurance consultation to make you feel empowered and informed.
It might seem impossible, but your business can feel clean and beautiful again. Call 911 Restoration of Southern Nevada for a Fresh Start today.
Your Trusted Partner for Sewage Cleanup in Southern Nevada
Let's clear up one thing before we move forward. A sewage backup is rarely ever your fault. In Southern Nevada and Clark County, heavy rains can flood the sewer and force sewage water onto your property.
You shouldn't have to deal with sewage water cleanup alone. You deserve to partner with a water cleanup company that has your best interest in mind and can undo any toilet water damage you experience. 911 Restoration of Southern Nevada is determined to help you recover quickly without spending a fortune.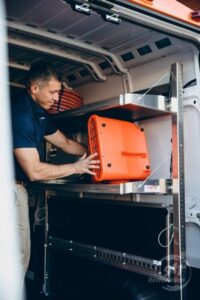 As soon as sewage enters your property, black water seeps into the structure of your home or business. The longer your property is exposed to water, the greater your risk of rotting and mold damages. Our technicians know that there's no time to waste when your property experiences sewage water backup.
That's why our sewage water cleanup crew is available day or night, every day of the year. They arrive on your property in 45 minutes or less and begin to pack out and store any at-risk belongings. From there, they begin the water removal process and use professional blowers to dry the area.
We see you as a neighbor, not as another invoice. We care about the health of your property as well as your personal wellness. That's why once all water has been removed and your property is dry, our crew sanitizes the affected area thoroughly to remove potential parasites, viruses, and disease-causing bacteria.
Did you know that according to the CDC, E. coli is one of the most common contaminants found in sewage water? If you come in contact with E. coli, you can experience cramping, vomiting, and dehydration.
Our sewage water cleanup crew even performs a mold inspection to make sure your property doesn't experience an infestation. If any growth is found, our technicians take care of it personally since 911 Restoration is a certified mold testing Las Vegas company.
It may seem like your property will never recover from sewage water backup, but you're not in this alone.
For sewage cleanup in Southern Nevada and Clark County, call 911 Restoration today.
Your Fresh Start After Sewage Backup is Waiting
 We know your property seems gross and disgusting now, but sewage cleanup is possible and within reach. Our goal is to deliver sewage water cleanup services that leave your property feeling brand new.
Our crew doesn't stop once the sewage is extracted. They take all the extra steps to ensure all the consequences of your sewage backup are gone. After water removal, they dry the structure to its core to protect you against rotting, weakness, and mold.
Sometimes toilet water can harm the materials of your property, even with the quickest response. If you need any repairs, our sewage restoration crew handles it. From floorboard replacement to drywall repair, we have you covered.
A fresh start is just a phone call away. Reach out to 911 Restoration of Southern Nevada today.