Mold Removal in Southern Nevada
You might not believe it, but all it takes for mold to grow in your Southern Nevada property is water damage repair Las Vegas or excess humidity. If mold is left to thrive without quick and proper mold removal, the effects on your property and health can be detrimental.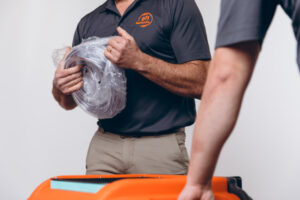 A mold infestation eats away at the materials and structure of your home or business, while the particles mold releases in the air are dangerous to your health. In fact, a study conducted by the EPA and Berkeley National Laboratory found of the 21.8 million people reported to have asthma in the U.S., approximately 4.6 million cases are estimated to be attributed to dampness and mold exposure in the home.
Protecting yourself, your staff, and your customers requires partnering with a certified mold remediation company.
911 Restoration provides expert mold inspection and mold remediation in Southern Nevada. Our mold removal technicians are available 24/7/365 and guarantee an arrival time of 45 minutes or less. Plus, they're IICRC certified and have been trained to handle mold remediation safely and effectively. Whether you need our help repairing contaminated surfaces or drying structures to prevent recurring growth, everyone on staff is prepared to do what it takes to give your property a Fresh Start.
We understand the importance of your property because we're a locally owned and operated business who values you as a neighbor. The health and safety of your staff and customers is our priority, and our mold remediation technicians treat your property as if it were their own. You can expect compassion, transparency, and communication from the very first phone call.
911 Restoration of Southern Nevada is licensed, insured, and bonded. We stand behind the respected name of a nationwide company and hold our team to the highest standards of service.
We're dedicated to keeping costs low while giving your property the Fresh Start it deserves. Call us today for mold removal in Southern Nevada.
Mold Cleanup for Your Property
 Don't be fooled into thinking that just because the climate of Southern Nevada is hot and dry your property is safe from a mold infestation. You can experience something as small as a leak, or as big as a flood, but the truth is most properties have required water damage restoration at one point or another. If that water damage restoration didn't include a mold inspection, we strongly encourage getting one now.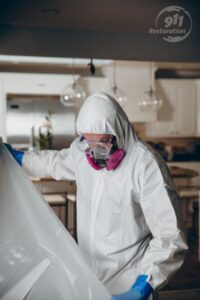 Mold thrives in dark and damp spaces like basements. Did you know that concrete actually absorbs and stores water? Over time, that moisture will rise to the surface and create a breeding ground for mold spores. If you have carpet or floorboards in your basement, you could have an infestation hidden underneath and not even know it!
You might think your mold infestation is contained to one part of your property, but its airborne spores can travel to other areas and create new infestations. To protect the health of your property and everyone who enters it, you should never settle for a water damage restoration that doesn't include a mold inspection.
As a certified mold remediation company, 911 Restoration requires all of our specialists to be trained in water damage restoration. They arrive on your property knowing which materials are most likely to store moisture and how to look for mold.
If your mold removal crew discovers an infestation, they bring in our professional tools for mold decontamination and perform a safe and thorough removal. Once our crew is sure the mold is gone they use professional fans to dehumidify the structure. Finally, they work to replace or repair any contaminated materials in your home or business. It may not seem possible now, but by the time we leave your property, you can enjoy a mold-free, clean, and fresh smelling environment.
Your property is your livelihood. We know that better than anyone else. Call 911 Restoration for a mold inspection in Southern Nevada and Clark County to get your Fresh Start.
Your Mold Remediation Team in Southern Nevada
 Mold is neither simple nor harmless, and an infestation requires assistance from a certified mold remediation company. You may prefer to handle an infestation with home remedies found online, but this choice will only cost you more money in the long run.
The function of mold in nature is to break down organic material. On your property, that looks like mold devouring entire wooden structures, wallpaper, and even glue!
Plus, most varieties of mold are either allergenic, pathogenic, or toxigenic, and are all harmful to your health when inhaled. If you're experiencing unexplained changes to your health, including dizziness, headaches, or an increase in allergies, you should consider a mold inspection.
Our mold cleanup crew has the knowledge, tools, and experience to clean away mold without spreading spores and mycotoxins. Because we don't want you to deal with any problems down the road, we take additional measurements to prevent a repeat infestation. Our team dehumidifies the site where your infestation occurred, eliminating moisture and creating an unwelcome surface for mold spores.
Mold remediation may seem like an unnecessary expense, but it's critical to save the future of your property. Call 911 Restoration of Southern Nevada to save money in the long run.