Fire & Smoke Damage Southern Nevada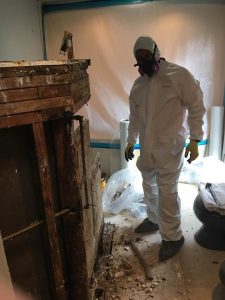 Nothing is as scary for a property owner than a fire—especially in the dry climate of Las Vegas. If the worst case scenario happens and there's a fire on your property, the smoke damage can make your business feel contaminated. Fortunately, 911 Restoration of Southern Nevada provides the fire damage restoration services it takes to give you a Fresh Start.
If you need puffback cleanup or smoke restoration, we're the emergency service restoration crew for the job. Our staff of highly trained fire cleanup specialists is ready and waiting to return your property to its former glory.
We provide fire damage restoration and smoke removal in Southern Nevada, Clark County, and the surrounding areas 24/7/365, with a guaranteed arrival time of 45 minutes or less. Our IICRC certified staff offers the honest answers and clear communication you need to feel confident in making a full recovery.
A property fire can leave you feeling anxious about the future and unsure of what steps to take next. 911 Restoration offers free, no-obligation services to keep you informed and help you feel more empowered in your decision-making. We offer a free fire damage assessment to determine exactly what you need to get back on your free. After that, our free insurance consultation goes over your policy and outlines exactly how much your provider will pay for your fire cleanup.
That's not the only way our cleanup crew delivers you peace of mind. You need to feel confident that you're in good hands throughout the fire damage restoration process. 911 Restoration of Southern Nevada is licensed, insured, and bonded. We're locally owned and operated and backed by the education and resources of a nationwide company.
When you're living your worst nightmare and need fire cleanup and smoke removal services, we're on your side. For fire damage restoration you can trust, call 911 Restoration of Southern Nevada and Clark County.
From Fire Disaster to Fresh Start with Our Smoke Damage Services
If you want to restore your property after a fire disaster, you need more than basic smoke removal services. You've invested a lifetime of hard work into your property, so we invest the same level of work into giving you a Fresh Start.
When you turn to us, you never have to work with another emergency service restoration company again. Our staff of fire and smoke cleanup experts does it all. When our crew arrives on your property they pack out any unharmed items that could be damaged during the cleanup process. You don't have to worry about storing these belongings until the smoke cleanup is complete because we do it for you.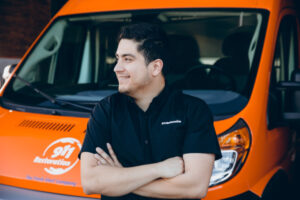 Next, our team begins the task of smoke and odor removal. We go the extra mile and include sodablasting surfaces, as well as cleaning furniture and dishes. We never consider the fire damage restoration process complete until we examine your property for hidden damages. We come equipped to repair anything—from your roof to your drywall.
Fire damage on it's own is a tragedy, but property fires often incur some type of water damage as well. The fire department does a great job of extinguishing the flames, but they don't take care of water removal. Fortunately, our smoke removal and fire cleanup experts are trained to water damage repair Las Vegas, too. They remove water from your property, dry the area, perform a full sanitization, and mold inspector Las Vegas.
When it comes to the restoration of your property, don't you want to work with a company that can handle it all? We leave no stone unturned. We take care of your property as well as your emotion needs throughout the process. Call 911 Restoration for fire damage restoration and smoke removal in Las Vegas, Clark County, and the surrounding areas.
Make the Fire Damage Restoration Process Easier on Yourself
The number one question property owners have when it comes to fire cleanup is this:
How much is this going to cost?
While we cannot answer that question without performing a visual inspection, we promise to always give you clear answers as quickly as possible with no obligation.
Once we know what it's going to take to restore your property, a staff member sits down with you for a free insurance consultation. We figure out which fire cleanup services your provider covers and what you can expect in terms of insurance coverage and what expenses will fall to you.
We make sure you get every single penny you're entitled to from your insurance provider. Our staff works through inventory and loss itemization with you and even files your claim for you. We bill your provider directly, so you don't have to worry about those costs ever again.
We know how stressful this time is for you. For a Fresh Start from smoke damage, call 911 Restoration of Southern Nevada today.