Cigarette Butts in Sewers? Why Immediate Sewage Cleanup Is Important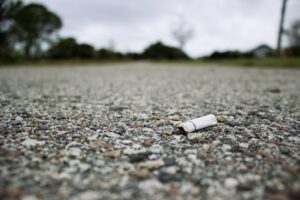 Cigarette butts in sewers present a significant risk of sewer backups and need cleanup, especially if you habitually dispose of them in your bathroom. Whether you flush it down or let it flow through the shower gutter, the buds keep on floating up even in the sewage lines. 
This means that as you drop more and more, they will keep on piling within the pipes. This pile will grow over time, leading to clogs and, eventually, sewage overflows. You can find cigarette butts littered almost everywhere these days, including in your plumbing. 
Many smokers may dispose of butts thinking that the cotton inside will mean that the bud will decompose quickly, but it takes somewhere between 18 months to 10 years for cigarette butts to decompose. This is because the cotton inside has plastic fibers that won't decompose as quickly. 
Yes, wet butts do decompose quicker, but even the 18 month period is enough to cause sewage backups at home or offices. In this article, we will look at why you should consider a sewage cleanup service immediately if you habitually dispose of cigarette butts in your bathroom. 
Why You Shouldn't Throw Cigarette Butts in Your Bathroom
The cotton inside cigarette butts isn't exactly cotton, especially if you look at Marlboro cigarettes – one of the most popular brands out there. Instead, they are made of cellulose acetate, while the outer layer has thin strands of plastic to give it a certain sturdiness. 
The acetate contains several toxins that get released during decomposition, worsening the impact of sewage gasses, should your lines ever decide to overflow. Furthermore, decomposition also leads to the butts releasing lead, arsenic, and microplastic in the lines, which contaminates the land in which the water seeps (through septic tanks).
You may have noticed a strange, bitter taste from your cigarettes when they get wet – perhaps when smoking in the rain. This taste is getting particularly nasty if the butt gets soggy. This is because of the tiny led and arsenic particles that start seeping through the filter. 
When thrown in the sewers, these substances start leaking within a few hours, which can be deadly for fish and other marine life. 
By default, cigarette butts AREN'T biodegradable. There are a few brands that offer biodegradable cigarettes, but people usually don't prefer them because they aren't as sturdy. 
Yes, the body of your butt does break down eventually, but to completely break the filter down and clear your sewage, it needs to be exposed to sunlight. Even if you smoke no more than two cigarettes in a day, within 15 days, the pile of 30 cigarettes in the plumbing is enough to cause sewage back up.
The Need for Sewage Cleanup Because of Cigarette Butts
Your storm drain or toilet is not a waste bin. If you are smoking in the bathroom, no matter who you are hiding from, you should consider taking the butt with you. When you throw cigarettes into the drain, they don't end up in the sea. 
You may have noticed that the butts float. This is where the primary issue begins – even if we don't factor in the decomposition element. Most plumbing lines have a u-bend that ensures that toxic sewage gases don't enter your home. 
While the feature is there to save your life from methane and other biogases, the same u-bend can cause a number of problems if you are throwing cigarette butts into your plumbing. The same is true for any bend in the lines where water does not travel fast enough.
The u-bend introduces a 'brake' in the line. All your cigarette buds end up depositing at this point. The more butts you throw, the bigger this pile becomes. Eventually, the deposit will be large enough to prevent other material or even water from flowing through. 
As mentioned above, even 15 days are enough to block your lines for good, forcing you to get a sewage clean-up service. You will need to open the u-bend pipe and stick something inside to pull the butts out – and when you do, you will notice that most of the butts are still going to be intact. 
The problem also persists in areas where there are filters. For example, storm drains have several filters before the rainwater collects in a reservoir. Even if the butts manage to reach the reservoir, they will pile up.
If the u-bend does get blocked, there is a very good chance that decomposition gasses will eventually leak into your home – from the gutter, no less. If you have a habit of smoking near the gutters, there is also a risk of a gas explosion or fire damage.
To mitigate these risks, we recommend that you call IICRC certified professionals to deal with the sewage backup and clean up before you have to deal with burst pipes or the issue gets bigger. 911 Restoration of Southern Nevada is here to help you ensure that you are living in a safe environment, and therefore offers 24/7, 365 days a year service to all. Give us a call today, and let us help!